Entertainment Law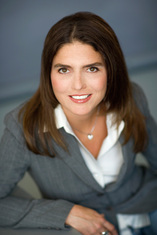 Ms. Bell has more than 12 years of legal experience, including significant in-house counsel and law firm experience, and extensive knowledge of entertainment law, industry transactions and the day-to-day challenges of producing and exploiting original film, television and new media productions. For the past six years, Ms. Bell was in-house counsel at an award-winning independent film and television production and distribution company in Los Angeles, California, where for the last four years she was the Senior Vice President and General Counsel.
As
Senior Vice President and General Counsel, Ms. Bell
managed the Business and Legal Affairs department, which included five attorneys, a paralegal, a contracts administrator, four executive assistants and shared production and finance staff. As such, Ms. Bell has developed effective management, communication and problem-solving skills – often under unusually challenging conditions – and excels in this type of fast-paced, multi-tasking environment, while maintaining attention to detail.
Over the years in service of numerous clients, Ms. Bell has developed a broad base of entertainment law, corporate law and finance and general counsel experience that she now puts to work for our clients. Her experience includes negotiating and drafting complex finance, security, production, distribution and international sales agreements, acquisition and licensing of literary, music and ancillary rights, overseeing project development, options, clearances and delivery, negotiating and drafting producer, director, talent, crew and other production agreements, drafting production forms, policies and procedures, preparing and filing copyright, security and corporate documents, advising on employment and labor law, guild compliance and corporate structure and governance and overseeing outside litigation and bankruptcy counsel.
Ms. Bell has been the lead production and finance counsel on more than 10 feature films collectively requiring more than $150 million in production financing including
Can't Stand Losing You: Surviving the Police, The Hoax, The Illusionist, The Maiden Heist, Nothing But The Truth, The Painted Veil, Possession and Resurrecting the Champ. Ms. Bell also has been lead counsel for the negotiation and drafting of distribution rights, international sales and financing agreements for more than 15 feature films including The Accidental Husband, Assassination of a High School President, Even Money, Find Me Guilty, First Snow, Gray Matters, Guns, Girls and Gambling, Haven, The Illusionist, Kickin' It Old Skool, The Maiden Heist, Nothing But The Truth, The Perfect Holiday, Possession, Resurrecting the Champ, What Doesn't Kill You and Winter Passing and for the multi-picture, multi-million dollar home entertainment license agreements with Worldwide SPE Acquisitions, Inc. and Twentieth Century Fox Home Entertainment LLC.